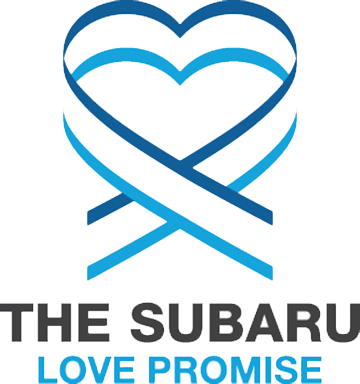 What is the Subaru Love Promise?
Subaru and our retailers believe in making the world a better place and the Subaru Love Promise is our vision of respecting all people. This is our commitment to show love and respect to our customers and to work to make a positive impact in the world.
How is McKenna Subaru dedicated locally to the Love Promise?
Our Love Promise can be seen in various partnerships with local charities and non-profits. We want the community to know that McKenna Subaru is here to help!
Seal Beach Animal Care Center
Earth Terracycle Initiative, Orange County Coast Keeper
Second Harvest Food Bank, Mercy House Homeless Shelter, Orange County School of the Arts, Huntington Valley Boys and Girls Club
Love Promise Stories from McKenna Subaru
Subaru and McKenna Subaru believe in making a positive impact on the communities in which we live and work. We uphold that belief through our Love Promise Community Commitment. Every month, we select inspiring stories from customers and partners from around our area who strive to support our collective commitment and feature them here
Subaru McKenna partners with Seal Beach Shelter - Seal Beach Animal Care Center S
The Seal Beach Animal Care Center is a no kill shelter for dogs and cats, located in a town of 24,000 residents in Seal Beach, California. We were thrilled when John Everett, Sales Manager from McKenna Subaru in Huntington Beach, visited our shelter, and chose us to partner with Subaru's National Pet Adoption Program. He was introduced to Johnny, a 10 year old deaf and blind cocker spaniel that was found wondering in a parking lot, presumably left there by his owner. Our shelter gives dogs like Johnny a second chance at life, and after extensive medical treatment, he was really thriving and spent many happy hours on daily walks and interactions with our volunteers. Sadly, Johnny passed away recently and has been missed greatly by all the volunteers who came to know and love him. McKenna Subaru invited us to showcase our dogs and cats via a tabletop display, which we placed in the Subaru showroom for one month. It got us great exposure to the community. Not only that, but McKenna Subaru is going to include our shelter in their November through January 4th "Share the Love" charity event. Events like Pet Adoption and Share the Love help our shelter pay for much needed food, housing and veterinary care for our dogs and cats. We are very appreciative of Subaru for taking up the cause of animals in need and very honored that McKenna Subaru chose us as one of their charities. Christina Miller, Fundraising Coordinator, Seal Beach Animal Care Center
---
Grand Opening - Tamara V
The Presidents day weekend Grand Opening Event at McKenna Subaru was an amazing three days. There was food, prizes, birds of prey and a Rock Climbing wall. Everyone should stop over at McKenna Subaru in Huntington Beach to see the amazing building and speak to their experienced staff. We had a wonderful day!
---
Blanket Delivery! - Samantha V
On Wednesday June 12th The Leukemia & Lymphoma Society Orange County Inland Empire Chapter and McKenna Subaru had the pleasure of delivering 80 blankets to the Hematology/Oncology Department at a local hospital as part of the Subaru Loves To Care program. This incredible act of generosity was warmly received by thelocal hospital staff who were excited to receive these blankets again this year to distribute these comforting gifts to their patients. They expressed how blankets are the best gift to give to the patients to keep warm during their treatment visits. Many thanks to everyone at McKenna Subaru and the local hospital for supporting LLS's mission to cure blood cancers and improve the quality of life of patients and their families.
---
McKenna Subaru Supports HB & Fountain Valley Youth - Laura P
Thank you to McKenna Subaru for supporting Boys & Girls Clubs of Huntington Valley for the second time during the 2019 Subaru Share the Love Event. Boys & Girls Clubs of Huntington Valley received a $26,600 donation which will help us keep our Haynes Family Huntington Beach Branch in top condition and continue to make our award-winning programs accessible to families who need them most through low-cost programs, scholarships, and free programs for low-income families. Because of Subaru's generous contribution, children can pursue their interests through programs focused on STEM, reading, arts, sports, leadership, character development, health, and life skills. Subaru's kindness and generosity is helping make great futures that children dream of into reality. Thank you, Subaru!
---
Loves To Care Blanket Delivery - Samantha V
The Leukemia & Lymphoma Society (LLS) Orange County Inland Empire Chapter partnered up with McKenna Subaru in Huntington Beach to deliver 80 blankets and 25 craft kits to cancer patients at a local hospital on Friday, June 22nd. Staff members Victoria and Marco from McKenna Subaru and LLS staff member Samantha along with volunteer Geno, came together to deliver the blankets and craft kits. The items were delivered to the hospital staff who were going to distribute the blankets to patients to stay warm during their hospital visits. The craft kits were going to be given to children to keep busy while they waited patiently for their parent to finish with their treatment. Hospital staff mentioned that they had been looking forward to our delivery as they enjoy seeing the smiles from patients when handing out the blankets. Patients who received blankets from us last year loved them and were very thankful for the generous gesture. It is great to know that through the Loves to Care partnership we are able to spread love, hope, and warmth.
---
Partnership with Leukemia & Lymphoma Society - Yvette S
McKenna Subaru in Huntington Beach, California partnered with the local Leukemia & Lymphoma Society Chapter in Orange County Inland Empire to deliver blankets to cancer patients at a local hospital on July 6. McKenna Subaru staff met with the hospital's cancer center patient navigator to learn about how patients are provided with care, linkages to services and referrals. Subaru and LLS staff delivered blankets, craft kits and other items to hospital staff for distribution to cancer patients visiting the facility. As a result of the blanket delivery, Subaru staff learned about the patient services provided to the local community through LLS and the hospital and are currently discussing hands-on volunteer opportunities for staff at the Subaru dealership!
---
Subaru and NWF Love the Earth! - Crystal D
The final members of our HMSA team at 5pm. School got out at 2pm but these hard workers stayed until the bitter end.
---
McKenna Subaru Shares the Love - Marketing M
During the Subaru Share the Love Event, November 17, 2016 to January 3, 2017, Danny McKenna, Owner of McKenna Subaru, donated $250 for every new Subaru vehicle sold or leased to the four selected charities, including the ASPCA®, Make-A-Wish®, Meals on Wheels America, and National Park Foundation. McKenna Subaru is proud to have risen a total of $31,000 and in February 2017, the 4 charities were gifted their donation checks worth each $ 7,750. The charity representatives were very surprised and truly appreciative by the amount of the donation. All 4 charities will use this donation to fund various activities during 2017. Stories about how the donations will be used by each charity are following.
---
McKenna Subaru Loves the Earth - Anja G
At McKenna Subaru, we were startled to learn of the sharp decline of the wildlife in the United States. With wildlife declining by over 58% percent due to habitat loss, Subaru and the National Wildlife Federation are raising awareness of this important issue by creating over 400 new Certified Wildlife Habitats at local schools. Thus, for our April Subaru Loves the Earth initiative, we were partnering with Hawthorne Academy of Math and Science and providing items needed to create a certified wildlife habitat in their schoolyard. We had a great experience with all students and we're glad to make a little positive impact in this world.
---