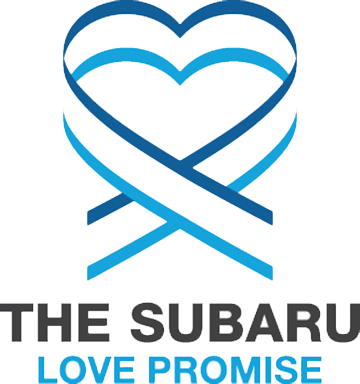 What is the Subaru Love Promise?
Subaru and our retailers believe in making the world a better place and the Subaru Love Promise is our vision of respecting all people. This is our commitment to show love and respect to our customers and to work to make a positive impact in the world.
How is McKenna Subaru dedicated locally to the Love Promise?
Our Love Promise can be seen in various partnerships with local charities and non-profits. We want the community to know that McKenna Subaru is here to help!
Seal Beach Animal Care Center
Earth Terracycle Initiative, Orange County Coast Keeper
Second Harvest Food Bank, Mercy House Homeless Shelter, Orange County School of the Arts, Huntington Valley Boys and Girls Club
Love Promise Stories from McKenna Subaru
Subaru and McKenna Subaru believe in making a positive impact on the communities in which we live and work. We uphold that belief through our Love Promise Community Commitment. Every month, we select inspiring stories from customers and partners from around our area who strive to support our collective commitment and feature them here
McKenna Subaru's Love Promise to OCSA - OCSA F
Orange County School of the Arts (OCSA) is grateful to McKenna Subaru for their continued partnership in support our mission to provide unparalleled arts and academic education to a diverse student body passionate about the arts. OCSA is a tuition-free, donation-dependent nationally recognized public charter school, located in the heart of Santa Ana, California, that prioritizes accessible, quality instruction for all students regardless of their socioeconomic standing. As a Season Sponsor, Subaru plays a key role in financially supporting our students in over 200 performance opportunities every year. These opportunities are invaluable for the artistic training of our students, helping them build confidence, gain professional experience and achieve their full potential. These annual productions include dance and music concerts, plays, readings, film festivals, musicals, culinary showcases, recitals, publications and exhibitions. Our major events include the Season Premiere concert, our signature Gala, the Performing with the Pros Broadway residency program, and the Season Finale at Segerstrom Center for the Arts. These productions are attended by more than 25,000 patrons every year. The 2019-2020 virtual school year put a damper on our performance plans but through the generous support of McKenna Subaru, OCSA was able to come back stronger than ever this year–hosting its first in-person Season Premiere event since 2019. This incredible event kicked off OCSA's 35th anniversary school year, and allowed us to gather with our students and families for an electrifying outdoor celebration with inspiring performances from past and present OCSA students and alumni. The Subaru Love Promise is alive and thriving at McKenna Subaru, where our partnership supports OCSA's incredibly deserving and talented students in their journey toward success. OCSA is thrilled to continue this partnership for our next generation of creative thinkers, innovators and entrepreneurs that will shape the future of our community and business world.
---
Helping Families When They Need It Most - Laura P
Your support of the Boys & Girls Club through the Subaru Share the Love program gives families at the Club a helping hand when they need it most. Whether a family is going through a divorce, a parent is training for a new job, or just coping with the challenges of living everyday of a pandemic, the Club provides both kids and parents with the support they need to make it through their own personal challenges. We couldn't do that without McKenna Subaru's support. With your help, the Club can offer discounts of up to 50% off its program fees for families with low incomes as well as free programs for families in the Oak View community, where most families live below the poverty line. In their own words, here are just a few examples of how your support changes lives for the better. One mom writes: "I am a newly single mother of two boys. Going through a separation has not been easy on me financially. I work two part-time jobs but even then, it is not enough. I usually rely on family for childcare help but schedules are changing for my family and the strain of the separation has caused tension within-laws who usually help. The Boys & Girls Club's scholarship program means I have childcare I can count on." Another parent says, "The scholarship program helps us very much in many different ways. Most importantly, our daughter gets the interaction with others that we believe is very important for her development. As for us as parents, we get the opportunity to pursue and complete our studies. Knowing our daughter is at the Boys & Girls Club, we can continue job searching and I can finish my respiratory therapy license." Thank you for helping families at the Boys & Girls Club!
---
Chris Price, the face of Subaru. - Jurng Hoon Y
Dear Subaru representative, How are you? I hope you go far behind your goals and make the world brighter with your business. I would like to give great thanks to Mr. Christopher Price, a service writer at Timmons Subaru. Whenever I visited the dealership, I saw him serving costumers as a member of their families. Kneeling down in front of customers sitting on chairs, he listens to them about their issues to be resolved with their satisfaction. With no exceptions, Mr. Christopher Price paid the same attention to me. Every concerns about a car melted away as I experienced his excellent manner, professional skills, and warm heart. He is the most awesome service man I have ever met. "Christopher Price" is the name whenever I come to hear of the name, "Subaru." I bet he represents humanity that Subaru cherishes. His extraordinary spirit of service can be an excellent example that will impact other workers to make their business much better, and also will impact customers to have stronger trust in Subaru. As you believe, your business is not only about dealing vehicles, but about dealing human life as well. I believe that Mr. Christopher Price is the person who knows the importance of the value. He devotes his life to his business, and to his customers' satisfaction at the same time. This is why I am writing about him as soon as I got your e-mail about an unforgettable retailer. Lastly, I would like to thank Mr. Christopher Price for his wonderful service. And I hope Subaru will go far beyond his goals with Christopher Price to make the world a better place to live. Sincerely, Jurng Hoon Yoo
---
Subaru McKenna partners with Seal Beach Shelter - Seal Beach Animal Care Center S
The Seal Beach Animal Care Center is a no kill shelter for dogs and cats, located in a town of 24,000 residents in Seal Beach, California. We were thrilled when John Everett, Sales Manager from McKenna Subaru in Huntington Beach, visited our shelter, and chose us to partner with Subaru's National Pet Adoption Program. He was introduced to Johnny, a 10 year old deaf and blind cocker spaniel that was found wondering in a parking lot, presumably left there by his owner. Our shelter gives dogs like Johnny a second chance at life, and after extensive medical treatment, he was really thriving and spent many happy hours on daily walks and interactions with our volunteers. Sadly, Johnny passed away recently and has been missed greatly by all the volunteers who came to know and love him. McKenna Subaru invited us to showcase our dogs and cats via a tabletop display, which we placed in the Subaru showroom for one month. It got us great exposure to the community. Not only that, but McKenna Subaru is going to include our shelter in their November through January 4th "Share the Love" charity event. Events like Pet Adoption and Share the Love help our shelter pay for much needed food, housing and veterinary care for our dogs and cats. We are very appreciative of Subaru for taking up the cause of animals in need and very honored that McKenna Subaru chose us as one of their charities. Christina Miller, Fundraising Coordinator, Seal Beach Animal Care Center
---
Grand Opening - Tamara V
The Presidents day weekend Grand Opening Event at McKenna Subaru was an amazing three days. There was food, prizes, birds of prey and a Rock Climbing wall. Everyone should stop over at McKenna Subaru in Huntington Beach to see the amazing building and speak to their experienced staff. We had a wonderful day!
---
Blanket Delivery! - Samantha V
On Wednesday June 12th The Leukemia & Lymphoma Society Orange County Inland Empire Chapter and McKenna Subaru had the pleasure of delivering 80 blankets to the Hematology/Oncology Department at a local hospital as part of the Subaru Loves To Care program. This incredible act of generosity was warmly received by thelocal hospital staff who were excited to receive these blankets again this year to distribute these comforting gifts to their patients. They expressed how blankets are the best gift to give to the patients to keep warm during their treatment visits. Many thanks to everyone at McKenna Subaru and the local hospital for supporting LLS's mission to cure blood cancers and improve the quality of life of patients and their families.
---
McKenna Subaru Supports HB & Fountain Valley Youth - Laura P
Thank you to McKenna Subaru for supporting Boys & Girls Clubs of Huntington Valley for the second time during the 2019 Subaru Share the Love Event. Boys & Girls Clubs of Huntington Valley received a $26,600 donation which will help us keep our Haynes Family Huntington Beach Branch in top condition and continue to make our award-winning programs accessible to families who need them most through low-cost programs, scholarships, and free programs for low-income families. Because of Subaru's generous contribution, children can pursue their interests through programs focused on STEM, reading, arts, sports, leadership, character development, health, and life skills. Subaru's kindness and generosity is helping make great futures that children dream of into reality. Thank you, Subaru!
---
Loves To Care Blanket Delivery - Samantha V
The Leukemia & Lymphoma Society (LLS) Orange County Inland Empire Chapter partnered up with McKenna Subaru in Huntington Beach to deliver 80 blankets and 25 craft kits to cancer patients at a local hospital on Friday, June 22nd. Staff members Victoria and Marco from McKenna Subaru and LLS staff member Samantha along with volunteer Geno, came together to deliver the blankets and craft kits. The items were delivered to the hospital staff who were going to distribute the blankets to patients to stay warm during their hospital visits. The craft kits were going to be given to children to keep busy while they waited patiently for their parent to finish with their treatment. Hospital staff mentioned that they had been looking forward to our delivery as they enjoy seeing the smiles from patients when handing out the blankets. Patients who received blankets from us last year loved them and were very thankful for the generous gesture. It is great to know that through the Loves to Care partnership we are able to spread love, hope, and warmth.
---
Partnership with Leukemia & Lymphoma Society - Yvette S
McKenna Subaru in Huntington Beach, California partnered with the local Leukemia & Lymphoma Society Chapter in Orange County Inland Empire to deliver blankets to cancer patients at a local hospital on July 6. McKenna Subaru staff met with the hospital's cancer center patient navigator to learn about how patients are provided with care, linkages to services and referrals. Subaru and LLS staff delivered blankets, craft kits and other items to hospital staff for distribution to cancer patients visiting the facility. As a result of the blanket delivery, Subaru staff learned about the patient services provided to the local community through LLS and the hospital and are currently discussing hands-on volunteer opportunities for staff at the Subaru dealership!
---
Subaru and NWF Love the Earth! - Crystal D
The final members of our HMSA team at 5pm. School got out at 2pm but these hard workers stayed until the bitter end.
---