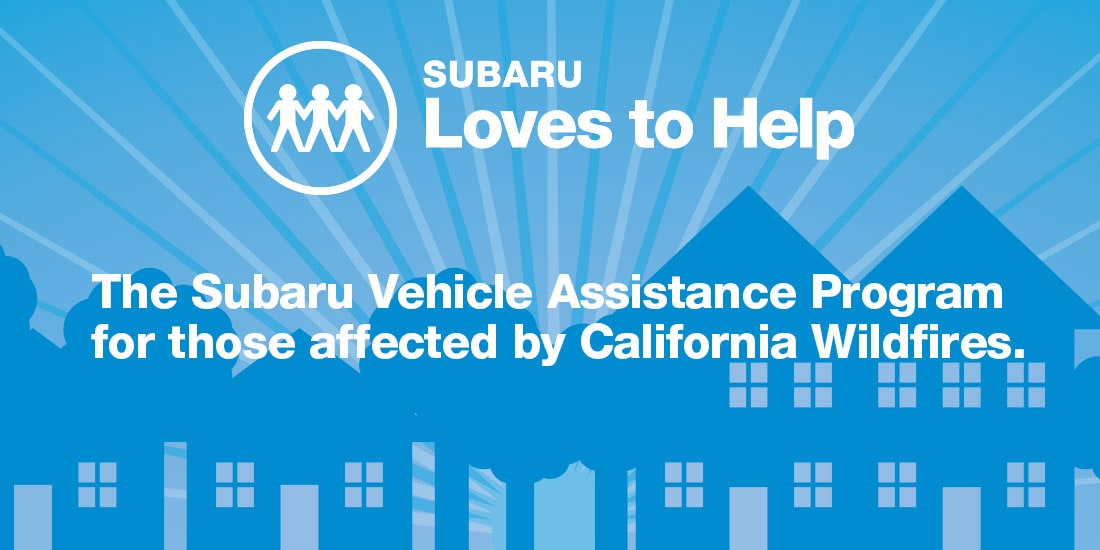 If you have a vehicle that was damaged or lost because of the California Wildfires in California, Subaru of America is offering $500 toward the purchase or lease of any new 2018 or 2019 model year Subaru vehicle. The program is open to those who prove their loss occurred in one of the California counties* that were affected by the California Wildfires that began on November 8, 2018.
If you are interested in this program give us a call at
888-685-1421
or stop by to see if you qualify.
Program Rules/ Details/ Disclosures:

Loss must be sustained because of the California Wildfires in a qualifying area of California during the period of November 8, 2018 through November 25, 2018.
To receive a credit, simply visit us and let us know that you have a vehicle damaged because of the California Wildfires.  Negotiate your best deal for a new Subaru and we will arrange for the $500 credit.
You do not need to currently own a Subaru to qualify nor does the vehicle need to be totaled.
You must take delivery of a new previously untitled 2018 or 2019 model year Subaru vehicle from our inventory by January 31, 2019.
Proof of loss:  You must have proof of ownership, location and loss because of the disaster.  Ideally, an insurance company "Proof of Loss" statement.  "Proof of loss" statements usually indicate the insurance company, customer name, date and place of loss, vehicle description and extent of damage and the insurance company's willingness to pay a claim. Other items that may be considered include proof of residence within a qualifying area and during the period of loss, pictures identifying the vehicle, location and vehicle ID number, combined with matching registration/title and driver's license proving ownership. 
The Subaru retailer will require the following to qualify Customer for the credit:
                - A request for the $500 credit
                - Proof of loss as described above
                - Customer name and address              
                - VIN for the vehicle being purchased              
Customer must have suffered vehicle damage in an affected area.
Limit one offer per qualified damaged unit.  One credit per new vehicle purchase.
This offer may be used in conjunction with low rate financing offers or special lease offers from Subaru Motors Finance (SMF).
The credit may be combined with any other Subaru promotional offer unless specifically prohibited by that offer.
You must take delivery of the new vehicle from our inventory on or before January 31, 2019.
*Qualifying areas in California are being defined as FEMA-designated Individual Assistance major disaster and emergency areas in the following California counties as of November 18, 2018: Butte, Los Angeles, Ventura.  Updates to FEMA-designated Individual Assistance areas can be found at
https://www.fema.gov/disaster/4407
(FEMA-4407-DR).